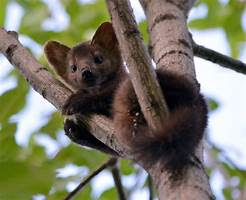 "And they shall be Mine saith the Lord
of hosts, in that day when I
"Unto Adam also and to his wife did the Lord God make coats of skins, and clothed them."
(Genesis 3:21)
Although a member of the weasel family, sables look very similar to pine martens, both being about the same size. They have cute, small, pointed faces, with sharp little button noses, dark eyes and large, pointed ears, usually held upright.
A typical full-grown sable will be about 20 inches long, including its 5-inch-long, bushy tail. They are nimble little beauties. The colour of most varieties is a rich-looking, glossy dark brown on the upper parts of their bodies and gray on their heads, with a pretty yellowish shade under their throats and bellies. However, the ones of highest value are those that are almost black on the backs and sides, with an orange or white area under their chins.
Furriers love to receive these beautiful furs from the trappers. They make warm, snug-fitting hats for both men and women, as well as luxurious, expensive coats and jackets. A choice fur will sometimes bring the trapper enough money to live on for a year, and a well-made lady's sable fur coat might sell for $100,000!
Sables are found in many places, including Siberia, Mongolia, China, Korea and some of the north Pacific islands. But because of the extremely long, very cold winters where they live, the Siberian sables are the most valuable of all, because their fur is thicker, glossier, softer and more durable than all others. Many refer to them as "soft gold," and over 100,000 of these are bought yearly by furriers in many parts parts of the world who pay high prices for them.
Actually, since the entire world is plagued with troubles of many kinds, these high-priced pieces of fur clothing are no longer very popular for several reasons—their high cost and the rarity of these animals. This means that the rare sable may not be in such extreme danger of being wiped out by trappers much longer. Many will be happy to see that take place.
How about the sables themselves and their way of life? As long as trappers leave them alone, they do well with a mixed diet of nuts, berries, insects and an occasional small animal, as well as birds' eggs and fish available in shallow waters. These nimble little creatures are surprisingly clever at avoiding the many traps that are set out for them by trappers. Hopefully, as the demand for their fur actually decreases, their numbers will increase. They are part of God's creation in which He delights.